| | |
| --- | --- |
| | |
| | |
This memorial website was created in the memory of our loved one, Olivia Young who was born in Canada on August 19, 2006 and passed away on August 19, 2006 . We will remember her forever.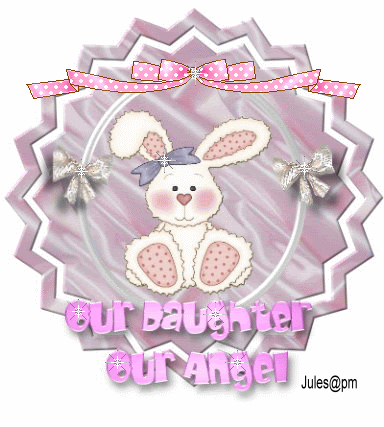 Olivia Renee Young was the miracle Rene and I have waited so long for.
She was conceived April 3 2006 with the help of a fertility clinic. Our journey together was blessed from the start as she became stronger day by day. The joy she had brought to our lives is beyond words as we saw and heard her beating heart for the first time. Instant love. Instant happiness for our precious daughter that was to be born on December 27th,2006.
On a hot Friday August 18th,2006 not knowing why pains have occured we rushed to our local hospital only to be told that they could not save our baby girl. Something had gone terribly wrong and she was coming out regardless of the hospitals attempt. Incomptent Cervix is what you have Mrs.Young. There is no way to detect this...better luck next time. I have in all my life never felt so helpless. At 4:25am on Saturday August 19th Olivia Renee Young came into this world a silent angel. She was 427 grams,12 cm long,blonde hair with her dad's beautiful features. An angel to beautiful to walk this earth.
I was 21.5 half weeks along. Crushed by the loss and have never recovered.

She was buried on Wednesday August 23,2006 at Glendale Memorial on the same floor as her great grandpa. Clinging to Rene for dear life as we had no choice but to say goodbye to our sweet pea. She will forever be our miracle,our tiny blonde angel that was so precious in every way.









Here is a song that I sang to my belly every single night, To my Darling Sweet pea

You are my sunshine
My only sunshine
You make me happy when sky's are grey
You'll never know dear
How much I love you
Please dont take my sunshine away.




Don't tell me that you understand,
don't tell me that you know.
Don't tell me that I will survive,
How I will surely grow.

Don't tell me this is just a test,
That I am truly blessed.
That I am chosen for the task,
Apart from all the rest.

Don't come at me with answers
That can only come from me,
Don't tell me how my grief will pass,
That I will soon be free.

Don't stand in pious judgment
Of the bonds I must untie,
Don't tell me how to grieve,
Don't tell me when to cry.

Accept me in my ups and downs,
I need someone to share,
Just hold my hand and let me cry,
And say, "My friend, I care."






On earth we don't understand
Why babies have to die
Their little lives are taken
And our painful cry is "why"

As we endure the pains of life
No other pain compares
A parent weeping for a child
Just briefly it was theirs

For reasons we don't understand
Their little lives are taken
And we cry out to God above
"Why must I be forsaken?"

The little one did nothing wrong
Their lives had yet to begin
How could the Lord allow this thing?
If he's the Holy One?

I held my stillborn daughter in my arms
Tears running down my face
My baby never had a chance
Her life was just a trace

I got to hold her briefly
And my heart was breaking so
This little girl, I held so tight
I'd never get to know

As I held my little girl
With pain I could not bear
I felt a presence in the room
I knew someone was there

With earthly eyes, I tried to see
Through the pain and bitterness
And wanted so to scream at God
For cheating me this way

Then I felt a warming glow
As it surronded me
And then, I heard an Angel whisper
"What must be, will be."

"God knows your suffering and your pain
But, you must understand
Everything that God allows
Is for his final plan."

"You only see the earthly things
And some will cause you pain."
"But be assured, your daughter is safe,
And you'll see her again."

"This life is temporary
Everybody's going to die."
"I know that you can't understand
And want to question, why?"

"God has sent his angels
And we came to comfort you."
"We ask you to share this message
With other Mothers too."

"Many Mothers lose their children
Before they are born"
"The Angels know their pain and grief
And feel it when they mourn."

"But one thing Angels know
That Mothers do not understand
One day the Mothers once again
Will hold their child's hand."

"They'll hold them in their arms
And they will say their precious name
And on that day they'll understand
Why they went through the pain."

"There is a plan in Heaven
And one day you'll celebrate
Because your little one is waiting
Just beyond the gate."








Words From Daddy

My daughter Olivia is heaven and my wife is beautiful




A baby is a precious gift
Sent from the heavens above
A little miracle just for you
With a timeless gift of love

Though your precious girl is gone
Before at the world you get mad
Remember it's the qaulity of time
And not the qauntity you had

Everything happens for a reason
God has his mysterious way
But know that this is true
You will hold your Olivia again someday

God is keep her for you
She will be in pain never
Unlike had she been on Earth
She will always be your little girl forever.

God bless you, Anna =)

- Ty




There are women that become mothers without effort, without thought, without patience or loss and though they are good mothers and love their children, I know that I will be better.

I will be better not because of genetics, or money or that I have read more books but because I have struggled and toiled for this child.
I have longed and waited. I have cried and prayed.
I have endured and planned over and over again.

Like most things in life, the people who truly have appreciation are those who have struggled to attain their dreams.
I will notice everything about my child.
I will take time to watch my child sleep, explore and discover. I will marvel at this miracle every day for the rest of my life.

I will be happy when I wake in the middle of the night to the sound of my child, knowing that I can comfort, hold and feed him and that I am not waking to take another temperature, pop another pill, take another shot or cry tears of a broken dream. My dream will be crying for me.

I count myself lucky in this sense; that God has given me this insight, this special vision with which I will look upon my child that my friends will not see.

Whether I parent a child I actually give birth to or a child that God leads me to, I will not be careless with my love.

I will be a better mother for all that I have endured. I am a better wife, a better aunt, a better daughter, neighbor, friend and sister because I have known pain.

I know disillusionment as I have been betrayed by my own body. I have been tried by fire and hell many never face, yet given time, I stood tall.

I have prevailed.
I have succeeded.
I have won.

So now, when others hurt around me, I do not run from their pain in order to save myself discomfort. I see it, mourn it, and join them in theirs.

I listen.

And even though I cannot make it better, I can make it less lonely. I have learned the immense power of another hand holding tight to mine, of other eyes that moisten as they learn to accept the harsh truth and when life is beyond hard. I have learned a compassion that only comes with walking in those shoes.

I have learned to appreciate life.

Yes I will be a wonderful mother.

Author Unknown






Mommy and Daddy don't cry for me.
To walk the earth was not meant to be.
I'm in God's house you see.
I watch over you every day.
I know that you love me in a very special way.
You wanted me to be healthy and whole,
So you had to let me go.
You will get to see me every day
As you look at the children who past your way.

I may be the little boy with the dimple in his chin
Or the little girl with the golden curl.
You will know what you did is right Because
When you look in the sky on a clear star filled night,
I will be the star that is shining so bright.
I love you Mommy and Daddy good night.




I WILL SEE YOU THROUGH~
I will see you through
I know it was not easy, for you to let her go,
but love like yours would not hold back, your love to suffer so.
And so I took her quickly, so she would never know,
a lengthy time of darkness, that would distress her so.
I left her body here awhile, so you could have some time,
to be prepared to let her go, she was already Mine.
I bid her come while happy, with joyous plans ahead,
and laughter in her face and heart, and not one thought of dread.
You have the most to suffer, your loneliness to bear,
but know that she is safe with Me, within My loving care.
And never doubt My love for you, I know you wonder why,
just know My strength will be your joy, My love will never die.
I bore my son's own suffering, and I will bear yours too,
give me your doubts and pain and hurt and I will see you through.
Author unknown



Listen To Me
Please don't tell me my child is dead
This I do not believe
My child lives
Listen to me

She lives in heaven where the angels play
She lives in my heart each and every day
She lives in the lives touched, smiles shared, and tears shed.
She lives in my dreams as I lay in bed.
She lives in my memories though they are few
She lives if you look you'll see her too.

Please don't tell me to move on or get over it
This I cannot do
Don't change the subject or shutter when I mention her name
Listen to me

Shs is a person like me and you
She had a heart, a brain, a soul to name a few
She is a daughter, grandchild, a niece, a sister
I'm not the only one who has missed her.
She was born silent August 19th
She has a name it is Olivia Renee
This is not how it should have been

Please take it all in
This is all I ask
To remember what I say
Listen to me

So be gentle be kind
And try to keep in mind
She is still a person
No matter how small
She lived and died like you and I
She soars in my heart and with angels in the sky

~Kristi Marie Rhodes~ (Mommy of Michal Rhodes and Dear Friend)







A Father's Grief






It must be very difficult
To be a man in grief,
Since "men don't cry" and "men are strong"
No tears can bring relief,



It must be very difficult
To stand up to the test
And field calls and visitors
So she can get some rest,



They always ask if she's all right
And what she's going through,
But seldom take his hand and ask,
"My friend, but how are you?"



He hears her crying in the night
And thinks his heart will break.
He dries her tears and comforts her,
But "stays strong" for her sake.




It must be very difficult
To start each day anew
And try to be so very brave--
He lost his baby too.





To Mommy, Love Angel



I once was going to be born
and this I couldn't wait,
I knew that everyone was expecting me,
I would try not to be late.

But I really wasn't sure what was on the other side,
I tried to accept what was happening
but I knew I couldn't hide.

I couldn't help but wonder who my parents were to be,
I knew for sure that no matter what,
They would always Love me.

So I thought about it for a while,
but I knew I had to leave,
I went on to another place,
it is so beautiful it's hard to believe.

I had a job to do,
but it wasn't here on earth,
I am sorry you had to miss it,
the day of my birth.

I wanted so bad to stay at home and be with you,
But I knew that there was something up here
that I had to do.

I am now a Guardian Angel
and I hope that you are proud,
I watch over you and Daddy,
I peek down through the clouds.

I hope you know how much I love you,
And how hard it was to go
I miss you so much everyday,
but I am sure you already know.

So please don't ever forget me,
As I will do the same,
You know this wasn't your fault,
there is no one to blame.

God needed me to be by his side
and to take good care of you,
So there is no need to be sad now
and no need to be blue.

If you ever get lonely,
just look up at the sky,
Like if you had a thought of me or
just needed to say hi.

I am so happy with the way things are
even though it may not seem,
I talk to you in the night time,
I touch you when you dream.

I want to see the same for you,
give a smile for me today,
Because I know that we will meet again
in some sort of way.

I will be up here waiting for you,
to open the gates real wide
And help you to come home to Heaven,
to take a step inside.

I thank you for loving me so much,
please believe that this is true,
And there is no one I could ever love more Mommy,
as much as I love you.
(author unknown)



Olivia Renee Young has been and always will be my special angel.The joy she has given Rene and I and continues to do so as we now think of her every day.




In memory of sweet Olivia. Thank You Kristi Rhodes :) Mommy of baby angel Michal Rhodes.


Courtesy of a wonderful friend Blanca..how she views Olivia in Heaven





A Mother's Prayer~ Celine Dion
A Mother's Prayer"

I pray you'll be my eyes
And watch her where she goes
And help her to be wise
Help me to let go

Every mother's prayer
Every child knows
Lead her to a place
Guide her with your grace
To a place where she'll be safe

I pray she finds your light
And holds it in her heart
As darkness falls each night
Remind her where you are

Every mother's prayer
Every child knows
Need to find a place
Guide her to a place
Give her faith so she'll be safe

Lead her to a place
Guide her with your grace
To a place where she'll be safe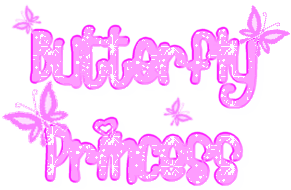 Mommy's Arms Are Empty

Today is the due date
For you to be born.
But all I have is
An emptiness to mourn.

Mommy's arms are empty
With no baby to hold.
My heart feels heavy.
The weather is cold.

This should have been the time
For the anticipation of your arrival.
But no one seems to be remembering
To share in my grief or sorrow.

You were a life
Created from love.
You were a gift
That was sent from above.

Why couldn't you join us
To become a family of three.
You'd have had parents who loved you


But Mommy's arms are empty
With no baby to hold.
My heart feels heavy.
The weather is cold.

Grandpa's birthday is getting nearer.
The date we told your family you would be here.
Instead of excitement, joy, and celebration,
I shed yet another tear.

Your nursery is still the computer room.
Your bassinet is down in a box.
Your blankies remain folded
With your tiny baby clothes and your cute little socks.

There isn't a day that goes by
When I haven't thought of you.
Calculating how far along my pregnancy would be
Or how big my tummy would be getting, too.

But Mommy's arms are empty
With no baby to hold.
My heart feels heavy.
The weather is cold.

I know that you have gone
To a much better place.
Knowing that the grace of God
Is shining on your face.

I see another baby.
I think of you then, too.
Wondering what you'd have looked like
As you giggle, cry, and coo.

But I will never know these things
Because you will never be here.
But in my heart you'll always be
My baby, my angel, my dear.

It doesn't make it easier.
For the pain I have is still here.
I will never forget you, my little one.
That fact remains quite clear.

But Mommy's arms are empty
With no baby to hold.
My heart feels heavy.
The weather is still cold.






A Special Gift from my new friend Kendra Barnai
Dedicated to Olivia and her baby angel sister Vanessa Barnai





An Angel came one morning,
A visit he did pay.
That angel took my baby,
And tore my heart away.

So innocent was my baby,
An angel in my eye.
My baby didn't whimper,
Only gave a little sigh.

I truly love that baby,
More than words could ever say.
Lord, why did that angel come,
And take my babe away?

The answers, I will never know,
For it is your chosen way.
I know my babe's in heaven,
Safe in your arms, I pray.

Lord, help me to see that light,
So that I may understand.
And when I see my babe again,
It is in your promised land





What Makes a Mother

I thought of you and closed my eyes
And prayed to God today.
I asked what makes a Mother
And I know I heard him say.

A Mother has a baby
This we know is true.
But God can you be a Mother
When your baby's not with you?

Yes, you can He replied
With confidence in His voice
I give many women babies
When they leave is not their choice.

Some I send for a lifetime
And others for a day.
And some I send to feel your womb
But there's no need to stay

I just don't understand this, God
I want my baby here
He took a breath and cleared His throat
And then I saw a tear.

I wish I could show you
What your child is doing today.
If you could see your child smile
With other children and say
"We go to earth to learn our lessons
Of love and life and fear.
My Mommy loved me oh so much
I got to come straight here.

I feel so lucky to have a Mom
Who had so much love for me
I learned my lesson very quickly
My mommy set me free.

I miss my Mommy oh so much
But I visit her each day.
When she goes to sleep
On her pillow's where I lay.

I stroke her hair and kiss her cheek
And whisper in her ear.
Mommy don't be sad today
I'm your baby and I'm here."

So you see my dear sweet one
Your children are ok
Your babies are here in My home
And this is where they'll stay.

They'll wait for you with Me
Until your lesson is through.
And on the day that you come home
They'll be at the gates for you.

So now you see what makes a Mother
It's the feeling in your heart.
It's the love you had so much of
Right from the very start.

Through some on earth may not realize you're a Mother, Until their time is done.
They'll be up here with Me one day
And they'll know you're the best one

(Unknown)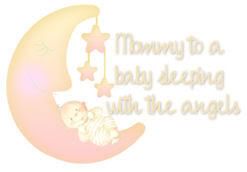 Precious, tiny, sweet little one
You will always be to me
So perfect, pure, and innocent
Just as you were meant to be.

We dreamed of you and your life
And all that it would be
We waited and longed for you to come
And join our family.

We never had the chance to play,
To laugh, to rock, to wiggle.
We long to hold you, touch you now
And listen to you giggle.

I'll always be your mother.
He'll always be your dad.
You'll always be our child,
The child we never had

But now you're gone...but yet you're here.
We'll sense you everywhere.
You are our sorrow and our joy.
There's love in every tear.

Just know our love goes deep and strong.
We'll forget you never
The child we had, but never had,
And yet will have forever.



Ooooo oooooo ohoohohoo
Ooooo ohooohoo oooohoo
Ooooo ohoohooo oohoooo
Oohooo oohoooho ooooho
Ooooo oooooo oooooo
Ooooo oooooo oooooo



Somewhere over the rainbow
Way up high
And the dreams that you dreamed of
Once in a lullaby ii ii iii
Somewhere over the rainbow
Blue birds fly
And the dreams that you dreamed of
Dreams really do come true ooh ooooh
Someday I'll wish upon a star
Wake up where the clouds are far behind me ee ee eeh
Where trouble melts like lemon drops
High above the chimney tops thats where you'll find me oh
Somewhere over the rainbow bluebirds fly
And the dream that you dare to,why, oh why can't I? i iiii



Well I see trees of green and
Red roses too,
I'll watch them bloom for me and you
And I think to myself
What a wonderful world



Well I see skies of blue and I see clouds of white
And the brightness of day
I like the dark and I think to myself
What a wonderful world



The colors of the rainbow so pretty in the sky
Are also on the faces of people passing by
I see friends shaking hands
Saying, "How do you do?"
They're really saying, I...I love you
I hear babies cry and I watch them grow,
They'll learn much more
Than we'll know
And I think to myself
What a wonderful world (w)oohoorld



Someday I'll wish upon a star,
Wake up where the clouds are far behind me
Where trouble melts like lemon drops
High above the chimney top that's where you'll find me
Oh, Somewhere over the rainbow way up high
And the dream that you dare to, why, oh why can't I? I hiii ?



Ooooo oooooo oooooo
Ooooo oooooo oooooo
Ooooo oooooo oooooo
Ooooo oooooo oooooo
Ooooo oooooo oooooo
Ooooo oooooo oooooo



Mommy For A Moment




I was a mommy for a moment,
but that moment is gone.
Somebody please tell me,
What did I do wrong?
I never got to hold you in my arms,
or be filled with all your little charms.
You both were already very loved,
But there were greater plans for you above.

I was a mommy for a moment,
but that moment is gone.
Somebody told me,
That I did nothing wrong.
So why did God take you away?
That was the most heartbreaking day.
We'll never walk hand in hand,
We'll never build castles in the sand.

I was a mommy for a moment,
but that moment is gone.
I believe now,
I did nothing wrong.
God loves you so much, he called you both home.
If only I would have known:
That I'd never hold you, or call your names,
Or even dance with you in the rain.

I was a mommy for a moment,
but that moment is gone.
Somebody please tell me,
Why is this pain I feel, so strong?
When I "saw" you both, I felt such joy,
Wondering if you were both girls or boys?
Maybe one of each,
Then our family would be almost complete.

I was a mommy for a moment,
but that moment is gone.
Although the pain is great,
We try to carry on.
In the future, I hope you come back to me,
What a joyous day that would be.
But for now, we find comfort in God's arms,
Knowing you are both safe from pain and harm.

I was a mommy for a moment,
but now that moment is gone.
The pain is strong, but God is stronger,
We will prevail for now and longer!




My Little Girl"


[Verse 1:]
Gotta hold on easy as I let you go.
Gonna tell you how much I love you, though you think you already know.
I remember I thought you looked like an angel wrapped in pink so soft and warm.
You've had me wrapped around your finger since the day you were born.


[Chorus:]
You're beautiful baby from the outside in.
Chase your dreams but always know the road that'll lead you home again.
Go on, take on this whole world.
But to me you know you'll always be, my little girl.


[Verse 2:]
When you were in trouble that crooked little smile could melt my heart of stone.
Now look at you, I've turned around and you've almost grown.
Sometimes you're asleep I whisper "I Love You!" in the moonlight at your door.
As I walk away, I hear you say, "Daddy Love You More!".


[Chorus:]
You're beautiful baby from the outside in.
Chase your dreams but always know the road that'll lead you home again.
Go on, take on this whole world.
But to me you know you'll always be, my little girl.


[Verse 3:]
Someday, some boy will come and ask me for your hand.
But I won't say "yes" to him unless I know, he's the half
that makes you whole, he has a poet's soul, and the heart of a man's man.
I know he'll say that he's in love.
But between you and me. He won't be good enough!


[Chorus:]
You're beautiful baby from the outside in.
Chase your dreams but always know the road that'll lead you home again.
Go on, take on this whole world.
But to me you know you'll always be, my little girl.




Dear Olivia

Hello sweetpea. Mommy and Daddy miss you terribly...we always will. A year ago this month we began our journey that lead us to you. As I sit here alone and close my eyes I am taken back to my dreams of a little girl with blonde hair. A squeaky little voice that would call me "Mommy". I never once gave into my fears of loosing you and told myself everyday that the good Lord will spare my heart this time. He allowed us five wonderful months together and the chance of holding you in our arms...if ever so briefly. We carry on everyday with heavy hearts and the dream of returning home and seeing your beautiful face once more. Spread your wings my love and forever know that we love you.

Cara Mia...Ti Amo.

Mommy xoxo




Baby Angels



Babies are angels that fly to earth;
Their wings disappear at the time of their birth;
One look in their eyes and we're never the same;
They're part of us now and that part has a name;
That part is your heart and a bond that won't sever;
Our babies are angels,we love them forever




Baby Girl


Sweet, sweet, baby girl whom we never got to know,
It's hard for us to let you go.
Mommy waited for you and we waited too.
Mommy wanted you and we wanted you too.
Mommy had so many dreams for you.


We think of smiles we'll never see.
We think of events that will never be.
We think of your first steps and your first teeth.
O Lord please help us in our grief.


Mommy planned to take you to places far and near.
Mommy yearned to keep you safe and free from fear.
Mommy hoped to show you off to your whole new world.
Mommy wanted to teach you as your life would unfold.


It's hard to understand why you, sweet baby, died.
We feel so numb right now, many tears we've cried.
We have so many questions and no answers seem to come.
Mommy tried so hard to have you, nothing could be done.


God, we stand before you broken-hearted
and ask you to heal these lives that must be parted
from this little one we can never hold,
who will always be a part of us, even when we're old.


God, hold this child in your loving arms.
Not ever to know any harm.
Bless her always and bless her mommy too.
Fill us with your love and strength to help us to make it through.

Amen.

My Dad is a Survivor



My dad is a survivor too
which is no surprise to me.
He's always been like a lighthouse
that helps you cross a stormy sea.

But, I walk with my dad each day
to lift him when he's down.
I wipe the tears he hides from others;
He cries when no one's around.

I watch him sit up late at night
with my picture in his hand.
He cries as he tries to grieve alone,
and wishes he could understand.

My dad is like a tower of strength.
He's the greatest of them all!
But, there are times when he needs to cry...
Please be there when he falls.

Hold his hand or pat his shoulder...
And tell him it's okay.
Be his strength when he's sad,
Help him mourn in his own way.

Now, as I watch over my precious dad
from the Heavens up above...
I'm so proud that he's a survivor...
And, I can still feel his love



HI DADDY



Hi Daddy Hi Daddy, its me,
Your baby girl in the sky.
Won't you tell me Daddy, Why does my mommy cry?
Doesnt she know I'm happy here,
Heaven's a beautiful place Oh, how it hurts me, Daddy
To see tears streaming down Mommy's face.
Daddy, tell her I'm much better here,
Jesus fixed my heart. But when I see mommy crying, It just about tears it apart.
I know it hurt you both, Daddy, When Jesus took me away.
But you and mommy remember, We'll be together again someday.
I can't wait to hug you, I never got the chance before. When its time for you to come, I'll be waiting at heavens door.
Then you'll both understand, Jesus knew where I needed to be.
What a marvelous place to live, Just wait and you both shall see.
Please let my Mommy know, Daddy,
That I heard every word she said. And I remember her softly kissing me As I lay cuddled in her arms.
Just one more thing Daddy, Before I have to go, I love you both very much And just wanted you to know.






The days seem endless without you sweetpea. Wishing mommy could turn back the hands of time and bring you back alive. The pain is unbearable as I weep everday for you. Never forget how much I love you and that I will forever wish we were together.


Mommy xoxo



Thank you all for visiting Olivia's website. She is and always will be the light of our lives and the one we will always miss. Please light an candle for our sweet one. Once again..thank you from the bottom of our hearts.



HAPPY EASTER SWEETPEA. YOU ARE FOREVER MISSED AND LOVED BY YOUR ENTIRE FAMILY AND FRIENDS. SPECIAL THANKS TO TRACI,NATHAN AND KENDRA BARNAI (ANGEL VANESSA'S FAMILY) FOR THESE SPECIAL GRAPHICS.







A Child's Angel
by Erma Bombeck

Once upon a time, there was a child ready to be born.

He asked God:

"They tell me you are sending me to earth tomorrow but how am I going
to live there being so small and helpless?"

God: "Among the many angels, I chose one especially for you. She will
be waiting for you and will take care of you."

Child: "But tell me, here in Heaven, I don't do anything else but sing
and smile, and that's enough for me to be happy. Will I be happy
there?"

God: "Your angel will sing for you and will also smile for you every
day.
You will feel your angel's love and be happy."

Child: "How am I going to be able to understand when people talk to
me if I don't know the language that men talk?"

God: "Your angel will tell you the most beautiful and sweet words you
will ever hear.
With much patience and care, your angel will teach you how to speak."

Child: "And what am I going to do when I want to talk to you?"

God: "Your angel will place your hands together and will teach you how to pray."

Child: "I've heard that on earth there are bad men. Who will protect me?"

God: "Your angel will defend you even if it means risking her own life."

Child: "But I will always be sad because I will not see you anymore."

God: "Your angel will always talk to you about me and will teach you the way to come back to me, even though I will always be next to you."

At that moment there was much peace in Heaven, but voices from earth
could already be heard.
The child, in a hurry, asked softly:

"Oh God, if I am about to leave now, please tell me my angel's name."

God: "Your angel's name is of no importance.
You will call your angel ... Mommy."







A Bereaved Parents Wish List

We wish our child hadn't died,we wish we had her/him back
We wish you wouldn't be afraid to speak her/his name
Our child lived and was very important to us
We need to hear that he was important to you too
If we cry and get emotional when you talk about our child
We wish you knew that it isn't because you have hurt us
Our child's death is the cause of our grief
Leaving our child's pictures,artwork or other remembrances in your home
means she/he lived amongst us and remains alive...
Being a bereaved parent isn't contagious,so thank you for not
shying away from us
We need you now more than ever
We need diversions,so we do want to hear about you,
but we also want you to hear about us
We might be sad and we might cry
But we wish you would encourage us to talk about our child
Our favorite subject of the day!
We know that you think and pray for us often
We also know our child's death pains you too
We wish you would let us know those things through a phone call,a card,note or a real big hug
We wish you wouldn't expect our grief to be over in six months
These first months were traumatic for us,but we wish you could understand our grief will never be over
We will suffer the death of our child until the day we die
We are working very hard in our recovery but we wish you could understand we will never fully recover
We will always miss our child and always grieve the she/he is dead
When we say "Where doing Ok", we wish you could understand we don't feel "Ok" and that we struggle daily
Your advice to take one day at a time is excellent advice
However, a day is too fast for us right now
We wish you could understand how difficult it is some days to handle an hour at at time
All the grief reactions we are having are very normal
Depression,anger,hopelessness, and overwhelming sadness are to be expected
So please know that when we are quiet,withdrawn,irritable,cranky or even rude
that certainly not our intent
Sometimes the world around us goes too fast and we need to get off
When we walk away,please let us find a quiet place to spend some time alone
Don't forget we still need you
We wish you would understand grief changes people
We are not the same people we were and never will
We wish very much that you could understand our grief,silence,tears,and pain
BUT....
We pray daily that you never will understand.
Thank You

Author Unknown





Something I want to share :My Time with Olivia
by Anna Young

"See I am sending an angel ahead of you to guard you along the way"~
Exodus 23:20

It all began at the end of March 2006. My time had come to visit Dr.Carl Laskin again to get this pregnancy issue resolved and finally have the baby we so long waited for. We went through the process and I was inseminated with rene on April 3rd and 4th. I was confident and happy since those two days are already marked as my cousin's birthdays. By April 18th I was confirmed pregnant. I had already known that as I had three other times before. I rested,worried,rested,prayed that this baby was going to be fine...and it was.
I had made it through my first trimester with flying colours and a heartbeat.
Ultrasound after ulrtasound this baby grew and caused me so much morning sickness that made me think along the lines of a girl. This child was brilliant and sucked its thumb way ahead of schedule. I have the pic just to prove it.
The moment came to find out what the sex was....and it was A GIRL. It has to be hands down the best day of my life. We must have called all of Canada.
Two weeks later unexpectedly I went into labour and from then on my entire world shattered.
We prayed so hard that my rosary broke into pieces right in the hospital.
Eight hours of severe pain out came my tiny precious baby Olivia Renee.
Less than one pound,the blondest hair you can even think of seeing,my nose only miniture form and the looks of her daddy. I have never laid eyes on anything so beautiful in my entire life than she. Born at 4:25am Saturday August 19th 2006 a sleeping angel.

May she never be forgotten by those whom love us~

Love her heartbroken Mom
Anna





What Has Happened Here?Tell Us How Do We Cope?
How Do We Say Goodbye...Some People Say
"Move On Get On With Our Lives Are They
Crasy? Don't They Know How Much
They Hurt Us When They Say
Things Like That.Don't
Say You Understand
Not Unless You
Have Been
Here...